Why Select Assisted Living in New York City, NY?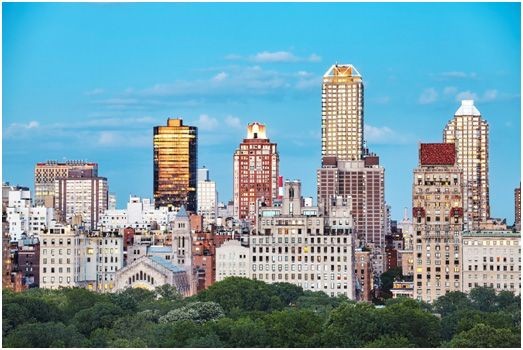 What can be said about New York City that isn't already known world-wide? Most people know that it's the most populous city in the United States, but what might surprise some is that it has more people living in it than there are living in 38 individual states. One of the world's true megacities, New York City is a global epicenter of culture, finance, entertainment, commerce, healthcare, and medi. It also has significant influence on technology, education, politics, tourism, dining, art, fashion, and sports. And, it's especially attractive to older adults and families of seniors who are looking to compare some of the nation's best Assisted Living communities.
New York City is located on one of the world's largest natural harbors, which extends into the Atlantic Ocean. It also famously comprises five boroughs, including Brooklyn, Queens, Manhattan, The Bronx, and Staten Island. As the premier gateway for legal immigration into the United States, New York City is the most linguistically diverse city in the world and home to the largest foreign-born population of any other city in the world. There is no greater example of America's "melting pot."
But what really sets NYC apart from most other cities is that everything is offered in such ample supply in the Big Apple. From dozens of world-class museums and iconic arts and cultural resources to the hottest culinary and shopping scenes in the country and some of the most successful sports franchises in history, everything in New York City is designed to be the very best. As the city's population continues to age, New York City is also well equipped to provide its seniors with a growing selection of senior living community options that will help older adults feel safe and supported throughout their later years of life.
If you're thinking about Assisted Living in New York for yourself or a loved one, then you will find an abundance of options available in NYC for you to consider. And at Senioridy.com, we recommend taking your time to thoroughly compare the facilities you're most interested in, so you can find the right one for your unique needs and budget.
Want to learn more about assisted living in New York City? This guide from Senioridy is the perfect place to start.
Assisted Living in New York City: What You Need to Know
With an incredible selection of Assisted Living facilities, world-class museums, the best food scene in the country, and an impressive roster of beneficial senior services, it's no wonder why New York City's senior population is seeing such a boom. If you're looking to learn more about what to expect from the city's Assisted Living communities, then Senioridy is here to help. Just click on the topics below to learn more about them.
Senior Population and Assisted Living Volume in New York City
Criteria for Admittance in Assisted Living in New York
Typical Costs of Assisted Living in New York City
Benefits of Assisted Living in New York, NY
Quality of Life in New York City
Senior Centers in New York City
Public Transportation Services in NYC
How to Find Assisted Living Facilities in New York City, NY
Senior Population and Assisted Living Volume in New York City
In 2021, 18% of all New Yorkers were aged 65 or older. This was an increase of 4% over the last decade. In fact, New York City alone is home to approximately 1.1 million older adults, who make up 13% of the city's population. And with more than 160 Assisted Living facilities in the Big Apple alone, there are plenty of options available to seniors in need of the type of care and support they offer.
The senior population in New York City is fast growing for several reasons. From its nationally recognized healthcare and excellent public transportation system to its vast array of senior-friendly attractions and senior services, there's so much about the city that makes it an ideal place to live for older adults. As you might expect, this can also mean that there might be a waiting list to get into some of the best Assisted Living facilities in New York City.
Criteria for Admittance in Assisted Living in New York
To become an Assisted Living resident in the state of New York, an individual needs to be medically eligible for nursing home care, yet their functional ability cannot be so limiting that they require nursing home care around the clock. New residents must have a degree of self-mobility that allows them to function in an Assisted Living environment. Each new resident also needs to be assessed by medical professionals to determine their unique medical needs. They also need to be assessed by the specific Assisted Living residence where they are seeking entrance to ensure social compatibility.
Unlike most states, New York distinguishes its Assisted Living residences in one of three ways to better meet the needs of its older population:
Basic Assisted Living Residence (ALR) – This type of Assisted Living residence is for seniors who are medically stable and relatively independent, but need some assistance with the activities of daily living such as bathing, toileting, dressing, or eating.
Enhanced Assisted Living Residence (EALR) – Enhanced residences are designed to provide care for seniors suffering from certain physically limiting conditions, such as severe arthritis, as well as those who require more intensive assistance with the activities of daily living, including walking.
Special Needs Assisted Living Residence (SNALR) – SNALR residences are certified to care for adults with more advanced conditions, like Alzheimer's or dementia. The staff at these residences create individualized plans of care that are tailored to the unique needs of each resident.
Typical Costs of Assisted Living in New York City
The average monthly cost for Assisted Living in New York City is $5,750 per month, which is over $1,000 more than both the state and national averages. That said, NYC's Assisted Living is more affordable than what's available in Ithaca or Watertown. And it's more than half the cost of a semi-private room in a NYC nursing home.
Financial assistance is available through New York's Medicaid program that can help seniors afford their Assisted Living expenses. There is also the Managed Long Term Care Waiver, which helps residents pay for Assisted Living, and the Assisted Living Program, which helps those who qualify for nursing home care but who prefer to live in an assisted living facility.
Veterans may also be eligible for one of several different pension programs from the VA to help cover some of the costs associated with Assisted Living.
It is important to note that the monthly cost mentioned above is just an average. Depending on the facility you choose, the monthly cost of Assisted Living in New York City may be higher or lower than that amount. Price ultimately often depends on the programs, amenities, and services a facility has to offer. For instance, amenities that can impact the cost of Assisted Living can include, but are not limited to:
Restaurant-style dining
Pet-friendly accommodations
Private and shared apartments with full kitchens
Housekeeping and linen service
Scheduled transportation
Social, cultural, and recreational activities
Emergency response system
On-call medical staff
It is also important to remember that an affordable Assisted Living facility may not be any more or less effective or beneficial than a more expensive facility. It is always recommended to thoroughly compare several different facilities, so you can find the one that best meets your needs and budget in your part of New York.
Benefits of Assisted Living in New York, NY
Moving a loved one into an Assisted Living facility in NYC isn't always easy. After all, it's a major change in your loved one's life. In many cases, a senior is leaving a home they've lived in for decades, so there's naturally going to be a lot of emotions involved with such a drastic change.
But many of the fears and concerns can be alleviated by helping your loved one realize the ways Assisted Living can improve their overall quality of life. These benefits include:
Assistance Is Always Available When Needed
If you or your loved one is no longer able to perform certain daily tasks, such as doing chores around the house, managing a bank account, or practicing proper hygiene, then assistance for these and other tasks is always available in Assisted Living facilities. These communities employ highly trained, compassionate staff who are always on hand to provide residents with professional and respectful, hands-on assistance regardless of how much, or little, support they require.
Advanced Safety and Security Features
For many families, the advanced safety and security features in these communities offer compelling reasons for why an Assisted Living facility is the best place for an aging parent to be. This is especially the case if an older adult is no longer able to live entirely independently or they are prone to wandering. There's no safer place for aging adults to be than in a highly secure Assisted Living facility, because in these communities safety is a priority.
Apartments That Feel Like Home
One way that Assisted Living facilities help new residents deal with the emotional loss of leaving their homes is by granting them the freedom and flexibility to furnish and decorate their apartments how they wish. This is important because it allows the resident's apartment to feel more comfortable and familiar, or more like home. When a senior's Assisted Living apartment is filled with the things they love and are used to, their transition to their new environment can progress much quicker and smoother.
Personalized Care
Assisted Living facilities are staffed by skilled healthcare professionals and compassionate support staff. This allows every resident to receive a continuum of care that can satisfy their health and wellness needs as well as their personal preferences. Assisted Living staff are highly trained to provide every resident with the high-quality care and support they need to live a better, healthier life.
Access to the Best Healthcare in NYC
Seniors in New York's Assisted Living facilities can have their everyday, basic medical needs met on-site but in the event they require more substantive or emergency healthcare, then they couldn't be in a better place because New York is home to some of the top hospitals and healthcare facilities in the world. Some of the nationally ranked healthcare facilities in New York City include New York-Presbyterian Hospital-Columbia and Cornell, NYU Langone Hospitals, Mount Sinai Hospital, and Lenox Hill Hospital at Northwell Health, to name just a few.
Quality Nutrition
Seniors who live on their own despite being unable to adequately care for themselves rarely get the nutrition their bodies need. This makes them highly susceptible to a wide range of avoidable health problems. This can be easily resolved by moving into Assisted Living. In an Assisted Living facility, every resident enjoys three delicious and healthy meals per day, including diet-specific meals, created for them by highly trained nutritionists and culinary professionals.
Fun Activities
In an Assisted Living community, residents can enjoy participating in a diverse calendar of social activities that are designed to not only keep them active and entertained, but also socially engaged within their community. In fact, these programs and activities are crucial for helping residents make new friends and avoid things like depression or feelings of isolation.
Quality of Life in New York City
Living in New York City provides you with the opportunity to live your life surrounded by some of the most recognized attractions in the world. The Big Apple sports arguably the world's finest arts and culture scene, anchored by Broadway, the Metropolitan Museum of Art, the American Museum of Natural History, MoMA, and the Whitney Museum of American Art. Then there's the stunning views offered at the Top of the Rock, the Empire State Building, and One World Observatory. Other attractions that are particularly loved by seniors include:
New York City is also where you can find thrilling sporting events all year thanks to it being the home of the Yankees, Mets, Giants, Jets, Knicks, Nets, Rangers, and New York City FC. With two professional baseball and football teams, there's always a game taking place in town.
While you're visiting some of NYC's best attractions and sites, you will find it always pays to stop for a bite to eat at any of the city's famous restaurants, bistros, or cafes. After all, New York City is home to arguably the best pizza, bagels, cheesecake, and deli sandwiches in the country, all of which you have to try at least once in your life (if your dietary restrictions allow, of course).
Senior Centers in New York City
Senior centers in New York City provide older adults with plenty of opportunities for making new friends and staying socially active with their incredible array of fitness programs, fun activities, group meals, holiday celebrations, classes, and social services. Membership is free and open to all New Yorkers, ages 60 and older, and many centers offer both in-person and convenient virtual activities.
Visiting a local senior center regularly has been shown to benefit older adults in several ways, including helping them to feel healthier and enjoy a more positive mindset.
There are more than 300 senior centers in New York City. To find the center that is closest to you, just click here and enter your zip code.
Public Transportation Services in NYC
Public transportation is extremely important to seniors, but in a city as large as New York City, having access to safe and reliable transportation takes on even greater importance. Luckily, New York City's public transportation system is the largest of its kind in North America. Managed by The Metropolitan Transportation Authority, the network serves a population of 15.3 million people across a 5,000-square-mile travel area surrounding New York City, Long Island, southeastern New York State, and Connecticut. MTA has the nation's largest bus fleet and more subway and commuter rail cars than all other U.S. transit systems combined.
Seniors aged 65 and over are eligible for reduced fares on the MTA's network of subways and buses. To find out if you qualify or to apply for reduced fares, click here. Reduced rates are also available for seniors on the MTA's Long Island Rail Road and Metro-North system, but proper documentation is required to get the discount. Documentation you can use include:
Government/state-issued driver's license or non-driver ID
Government/state-issued passport
NYC Department of Aging ID card
Reduced-Fare MetroCard or Reduced-Fare EasyPay Card
Birth certificate or a Medicare card issued by the Social Security Administration, if accompanied by a different photo ID
If you are a senior with a disability, then you can get reduced fare using an Access-a-Ride card, an Able-Ride card, a Para-transit card, or a Suffolk County Accessible Transportation card.
How to Find Assisted Living Facilities in New York City
Whether you are looking for an assisted living facility for yourself or a loved one, there are a few different ways that can find the right one for your needs in one of New York City's five boroughs. One option is to do it the old-fashioned way by looking in the phone book or inquiring about assisted living from your friends and relatives.
Another is to contact a placement agency. Senior placement agencies help seniors find the right assisted living facility for them by working with the senior and their family to find the best possible fit for their needs. These types of services typically charge a referral fee to the Assisted Living community since they are bringing in revenue to that facility, so they don't usually charge seniors or their families. It is important to note that since agents can only get paid by assisted living facilities that they have contracts with, you may not be shown all the assisted living facilities that are available to you.
Another option is to use an online directory to search for assisted living facilities in New York City from Senioridy.com. Senioridy's comprehensive assisted living search engine can provide you with the best possible results based on your needs.
Once you do this simple search, you will be presented with many of the top-rated facilities in New York City to compare.
By accepting you will be accessing a service provided by a third-party external to https://senioridy.com/