Why Select Assisted Living in Phoenix, AZ?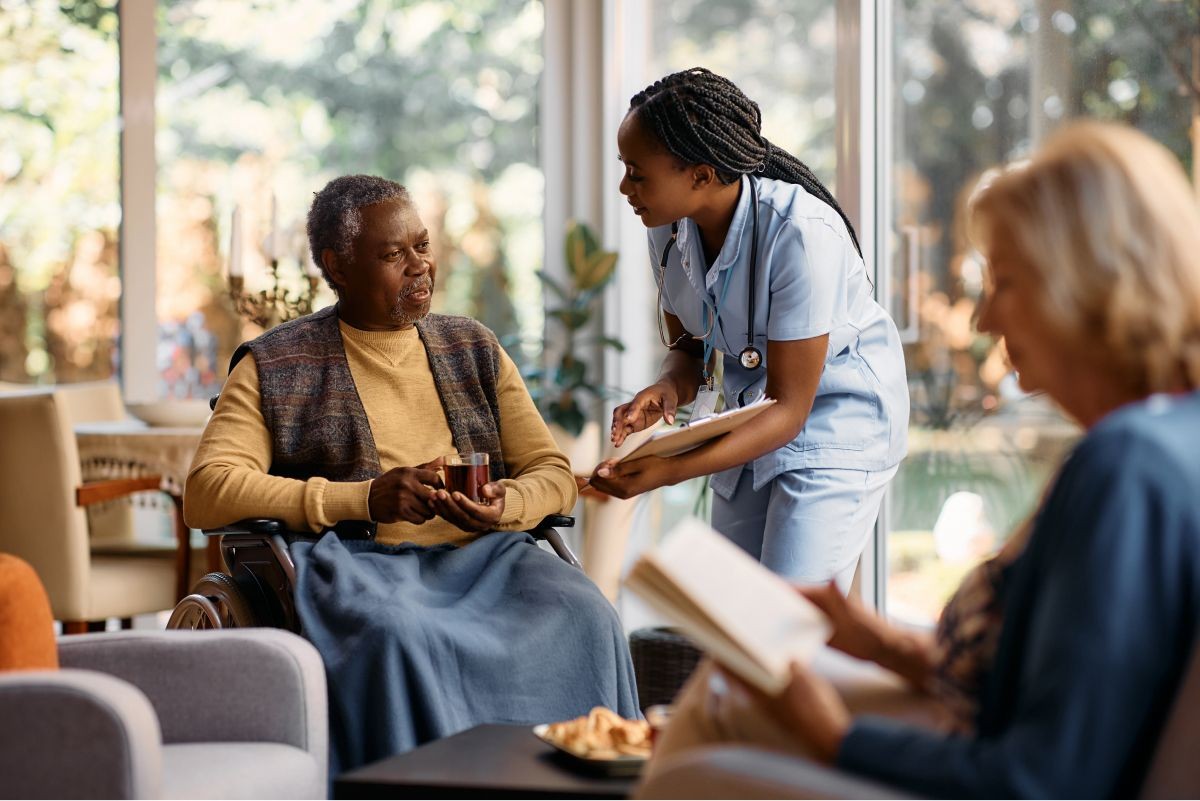 Most older adults look for certain things when choosing where to retire to. Things like a warm climate, a relaxed way of life, scenic natural backdrops, quality healthcare services, and convenient amenities are usually among the top considerations. And if there's one city in the United States that can check off all the boxes, it's Phoenix, AZ. Thus, if you're searching for Assisted Living communities for yourself or an aging parent, then Phoenix needs to be one of your top contenders. After all, Phoenix doesn't rank as one of the best places to live and retire in America for nothing.
Nicknamed the Valley of the Sun, Phoenix has more sunny days than any other city in the United States. This allows seniors to enjoy the beauty of the great outdoors on a daily basis. Whether golfing, walking with friends, exercising, or seeing the best of what the city has to offer, you can just about guarantee that the sun will be shining no matter what outdoor activities you're enjoying. And, it's one of the few cities that doesn't observe daylight savings time, so you'll never have to worry about changing your clocks twice a year!
Phoenix is a city with endless opportunities for living your best life, regardless of your age. From its world-class museums, low cost of living, and professional sports teams to its innovative culinary scene, abundant shopping, and rich Native American history, Phoenix truly is a jewel in the west.
If you're thinking about Assisted Living for yourself or a loved one, then you will find plenty of excellent facilities in and around Phoenix, AZ for you to consider. And at Senioridy.com, we recommend taking your time to thoroughly compare the facilities you're most interested in. This will help ensure that you choose the right residence for your unique needs and budget.
Want to learn more about Assisted Living in Phoenix, AZ? This guide from Senioridy is the perfect place to start.
Assisted Living in Phoenix, AZ: What You Need to Know
If you want to learn more about Assisted Living in Phoenix, such as the average monthly cost, admittance criteria, and more, then Senioridy is here to help. Just click on the topics below to learn more about what to expect in Phoenix and its Assisted Living communities.
Senior Population and Assisted Living Volume in Phoenix, AZ
Criteria for Admittance in Assisted Living in Arizona
Typical Costs of Assisted Living in Phoenix, AZ
Benefits of Assisted Living in Phoenix, AZ
Quality of Life for Seniors in Phoenix
Senior Centers in Maricopa County
Public Transportation Services in Phoenix, AZ
How to Find Assisted Living Facilities in Phoenix, AZ
Senior Population and Assisted Living Volume in Phoenix, AZ
Phoenix is home to 1,232,572 adults, over 182,000 of whom are seniors aged 65 and over. Whether they're attracted to the region's sunny, warm, and arid climate, its friendly and laid back atmosphere, or its affordable Assisted Living options, one thing is certain – older adults love living in Phoenix. And with 215 Assisted Living facilities in the Phoenix area, the city has far more facilities than most other similarly sized cities to choose from.
In recent years, Phoenix has seen more luxury Assisted Living communities pop up. These facilities offer resort-like amenities and services that are designed to lend a more luxurious and relaxing vacation-like feel to the communities. Despite the high number of facilities, there can often be a waiting list to get into the best Assisted Living facilities in Phoenix, AZ.
Criteria for Admittance in Assisted Living in Arizona
To qualify for Assisted Living in Arizona, a resident's medical needs can't exceed the facility's scope of care unless they are covered by a licensed home health agency. Home health agencies can be hired by residents who have greater medical needs than what the facility can provide for, although there are limitations on residency. For instance, residents cannot be admitted to an Assisted Living facility in Arizona if they are permanently bedridden or require the use of restraints. For these types of residents, admission into a Directed Care facility would be required.
Typical Costs of Assisted Living in Phoenix, AZ
The average monthly cost for Assisted Living in Phoenix is $3,700 per month, which is $200 lower than the state average and $600 lower than the national average. The general affordability of Phoenix's Assisted Living communities is part of the city's allure and just one of the reasons why so many older adults choose this area for their retirement.
Although Phoenix has some of the more affordable Assisted Living options in the country, the cost can still be higher than some seniors can comfortably afford simply due to the fact that so many older adults live on such limited incomes. For these seniors, financial resources are available that can help them afford their Assisted Living costs.
Arizona's Medicaid system is called the AHCCCS, and it covers long-term care services for people who are nursing home-eligible, and who otherwise meet certain financial eligibility requirements. While the state's Medicaid doesn't pay for Assisted Living housing costs, qualified residents may receive reimbursement for any related personal care services, which licensed facilities offer to aid residents with activities of daily living, like eating, bathing, and dressing.
Veterans living in the Phoenix area may also be eligible for one of several different programs from the VA to help cover some of their Assisted Living expenses.
It is important to remember that the monthly cost mentioned above is just an average. In Phoenix, Assisted Living can cost as low as $3,000 per month to higher than $5,000 per month. The cost of a facility usually depends on its location and size, as well as the programs, amenities, and services it offers its residents. For instance, some of the amenities and services that can impact the cost of Assisted Living can include, but are not limited to:
Restaurant-style dining
Pet-friendly accommodations
Private and shared apartments with full kitchens
Housekeeping and linen service
Scheduled transportation
Social, cultural, and recreational activities
Emergency response system
On-call medical staff
It is also important to note that price isn't always a reliable indicator of an Assisted Living community's quality. An affordable Assisted Living facility may not be any more or less effective or beneficial than one that costs considerably more. As a result, it is highly recommended to thoroughly compare several different facilities, so you can find the one that best meets yours or your loved one's unique needs and budget.
Benefits of Assisted Living in Phoenix, AZ
It's never easy to talk to an aging parent about moving into Assisted Living. After all, they have literally spent decades building their lives and this type of change can be especially difficult to accept. But the reality is, when a senior is no longer able to live independently, their risks of suffering illness, injury, or worse rises dramatically.
One way to help them gradually accept the move is to help them understand all the benefits that they can enjoy by moving into Assisted Living, many of which will provide an immediate effect on your loved one's overall quality of life. Here are just some of the many benefits that an older adult can expect when moving into Assisted Living in Phoenix, AZ:
24/7 Hands-On Assistance
The number one reason why older adults move into Assisted Living is because they simply can't perform all their activities of daily living (ADLs) anymore. In Assisted Living, staff is always available to provide residents with whatever assistance they need, whenever they need it. This can be anything from completing household chores to providing help with hygiene management. The staff in these communities are expertly trained to provide whatever assistance is needed in the most respectful and compassionate way possible, 24/7/365.
Enhanced Safety and Security
For seniors who are no longer able to live independently, an Assisted Living residence is the safest place for them to be. This is especially the case for seniors that have become prone to wander or have been exhibiting unsafe behaviors. In an Assisted Living residence, seniors are kept safe, sound, and accounted for thanks to advanced safety and security measures. This benefits seniors and provides greater peace of mind to their families.
Comfortable and Roomy Apartments
Most Assisted Living residents enjoy living in private apartments that are well-appointed and comfortable, and they provide everything a senior might need. Most Assisted Living facilities also allow their residents to furnish and decorate their living spaces as they wish, and this helps to make a new resident's transition to their new living space go much smoother.
Quality Nutrition
It is not uncommon for many older adults living alone to suffer from hunger or the cumulative effects of eating an unhealthy diet. Part of the problem is affording the high cost of fresh, healthy food, but there's also the problem of getting to and from the grocery store. This is one area where moving into an Assisted Living residence can provide an immediate impact on a senior's life. In Assisted Living, a senior enjoys three nutritious and delicious meals per day, so they always get the quality nutrition they need and never go hungry.
Social Activities
Staying active is essential for maintaining one's mental and physical wellness, but it becomes even more important as we age. For this reason, Assisted Living residence communities provide their residents with a wide variety of programs and activities that are designed to keep them entertained and active. Participating in these activities is encouraged because each one presents residents with opportunities for making friends, getting healthy, and having fun.
Quality Off-Site Healthcare Resources
Assisted Living staff are well-trained to provide for the basic medical needs of their residents, but in some cases, a resident may require more advanced medical treatment that the facility simply isn't equipped to provide. In these situations, having quick and dependable access to high quality medical care is important. And in Phoenix, there are several nationally ranked healthcare providers where older adults in Assisted Living can get the treatment they need. Some of the top-rated healthcare facilities in the Phoenix area include Mayo Clinic Phoenix, Banner-University Medical Center, St. Joseph's Hospital, and the Chandler Regional Medical Center, to name just a few.
Quality of Life for Seniors in Phoenix
Despite having a resort-like atmosphere, Phoenix has a cost of living that's lower than the national average. This, coupled with Arizona having the third most affordable Assisted Living rates in the country, make Phoenix a fantastic place to retire to, both for personal and financial reasons. It's no wonder why so many older adults choose Phoenix for living the next stage in their lives.
Phoenix is also home to several noteworthy attractions that older adults just love to visit. For instance, the city has a wide variety of outstanding museums, like the Heard Museum, the Pueblo Grande Museum, the Phoenix Art Museum, and the Musical Instrument Museum, to name a few. It's also the home of the Frank Lloyd Wright Foundation, Taliesin West.
Phoenix also enjoys a solid sports fan base thanks to it having franchises in all four major pro sports leagues: Phoenix Suns (NBA), Arizona Diamondbacks (MLB), Arizona Cardinals (NFL) and Arizona Coyotes (NHL). Its ISM Raceway also hosts two NASCAR events every year.
Other senior-friendly attractions in and around Phoenix include:
Phoenix also has a vibrant culinary scene featuring some of the most innovative restaurants in the country, making for the perfect complement to any shopping or sightseeing excursion. Whether you're craving a Sonoran hot dog, authentic fry bread, an enchilada style chimichanga, or some of the best tasting Medjool Dates you've ever tried, you'll find it right here in beautiful Phoenix, AZ.
Senior Centers in Maricopa County
With Phoenix being such a popular destination for older Americans to retire to, it should come as no surprise that the city provides several senior centers where local seniors can enjoy a full calendar of programs and services designed just for them. Every senior center in Phoenix offers beneficial programming such as recreational and leisure programs, human services, health and wellness programs, classes and other learning opportunities, and cultural programs that can add value and satisfaction to one's quality of life.
Below is a list of the senior centers in Maricopa County, in and around Phoenix:
Public Transportation Services in Phoenix, AZ
Seniors in Phoenix have easy access to outstanding public transportation services provided by Valley Metro. Valley Metro operates a variety of light rail, bus, and local shuttle services to the Phoenix metro area, as well as transportation to nearby cities like Glendale, Tempe, Mesa, Scottsdale, and Chandler, among others.
Seniors aged 65 and over can ride Valley Metro buses and light rail services for a reduced fare with a Metro Valley Reduced Fare ID Card, driver's license, or state ID card. To obtain a Reduced Fare ID Card, seniors will need to mail a completed application along with supporting documentation to the Metro Valley Mobility Center. Click one of the options below for the Reduced Fare ID application and instructions:
How to Find Assisted Living Facilities in Phoenix, AZ
Whether you are looking for an Assisted Living facility for yourself or an elderly parent or loved one, having a reliable resource that can provide you with several options within your desired search area is important. This is where Senioridy.com can be a tremendous asset.
Senioridy provides you with a comprehensive directory of Assisted Living facilities when you use our easy online search tool. This does two things for you – it provides you with everything you need to know to compare Assisted Living facilities and it gives you their contact information, so you can contact them directly instead of through a senior placement agency (which will charge you a sizable fee for doing so). With Senioridy, you cut out the middleman and that saves you money.
To search for Assisted Living facilities in the Phoenix area on Senioridy.com, just type "Phoenix'' in the search box under Located Near and click on the arrow. Senioridy's comprehensive Assisted Living search engine will then provide you with a selection of the top-rated facilities in and around the city of Phoenix, AZ to compare.
By accepting you will be accessing a service provided by a third-party external to https://senioridy.com/