Why Select Assisted Living in Charlotte, NC?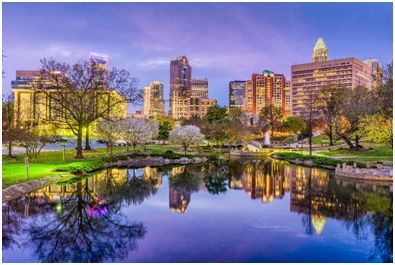 Charlotte is an excellent city for those looking for high-quality assisted living solutions that are specially designed to meet their unique needs. The city boasts world-class healthcare systems, stunning gardens, art museums, historical buildings, and a host of senior-friendly activities that can maximize one's quality of life.
Nicknamed "The Queen City," Charlotte is unbelievably beautiful. Despite being one of the 25 largest cities in the United States, and the largest in North Carolina, it ranks in the top 10 cities for urban forests by American Forests. In terms of sheer natural beauty, it can be difficult to find a city with more greenery throughout it than Charlotte. In fact, Charlotte's been named a "Tree City" for 33 consecutive years by the National Arbor Day Foundation.
The life that awaits you in Charlotte is comfortable and relaxed. The city blends the laid-back attitude that the South is so well known for with a commitment to progression and innovation that's comparable to other, far larger metropolitan cities. In Charlotte, you can enjoy the closeness of community without sacrificing easy access to the things that matter most to you.
Charlotte offers a wonderful lifestyle to older adults with its outstanding public transportation system, blissful temperatures that average throughout the year between 42 and 79 degrees, blazing hot food scene, and affordable cost of living.
With so much available in this incredible city, Charlotte offers all the opportunities you need to live your best life. So, if you're considering assisted living in the Piedmont, and you want to live somewhere that is vibrant, welcoming, and overflowing with southern hospitality, then Charlotte needs to be one of your top considerations.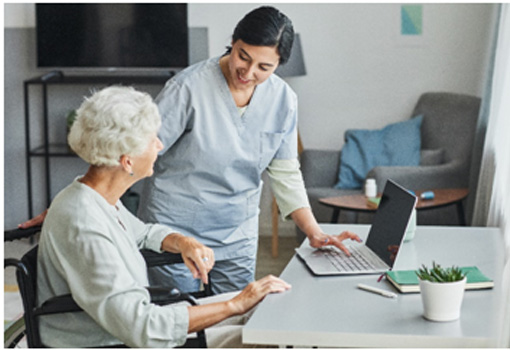 Assisted Living in Charlotte, NC: What You Need to Know
Making the decision to move into assisted living is never an easy one but having the right information at your disposal certainly helps. Senioridy is a resource you can trust if you're looking to learn more about assisted living facilitiesin Charlotte, NC. Just click on the topics below to get a better idea of what to expect if you are interested in Charlotte's assisted living for yourself or a loved one.
Assisted Living in Charlotte: Criteria for Admittance
Average Costs of Assisted Living in Charlotte, NC
Senior Population ofCharlotte, NC
Popular Attractions for Seniors in Charlotte, NC
Benefits of Assisted Living in Charlotte, NC
Charlotte's Public Transportation Services
List of Senior Centers in Charlotte, NC
Assisted Living in Charlotte: Criteria for Admittance
To qualify for admittance into assisted living in Charlotte, an individual needs to be at least 65 years old and require one or more of the following:
Minimal skilled nursing services
Rehabilitation services
Daily assistance with everyday tasks — eating, bathing, etc.
Medication management
Assisted living is not ideal for individuals who need:
Around the clock supervision
Extensive medical care
Memory care
Average Costs of Assisted Living in Charlotte, NC
For everything that Charlotte has to offer its residents, it remains remarkably affordable.In fact, the overall cost of living here is 5% lower than the national average. And affordability is another reason why so many seniors choose assisted living in Charlotte. The median monthly cost of assisted living in Charlotte is $4,400, which is lower than the national average.
It is important to note that the actual cost of assisted living in the communities you are comparing may be higher or lower than the above average because these communities vary in the types of amenities they offer to their residents, and these can affect their costs. Some of the amenities that can affect the total cost of assisted living can include, but are not limited to:
Restaurant-style dining
Private and shared apartments with full kitchens
Housekeeping and linen service
Scheduled transportation
Social, cultural, and recreational activities
Emergency response system
On-call medical staff
While the cost can be a concern to some older adults, there is help available. North Carolina offers a Special Assistance program that helps low-income seniors who reside or plan to reside in a licensed long-term care facility may be able to qualify for. The program is 50% funded by the state, with the remaining balance funded by the counties. Special assistance will pay for rent and meals and provides a small monthly cash allowance so that recipients may purchase any sundry items they would like. Applications are available from your local Department of Social Services.
Senior Population of Charlotte, NC
As of 2021, 10.4% of Charlotte's population consisted of adults aged 65 years and over. With a total population of 879,709, this means that there are approximately 91,490 seniors living in the city. Charlotte is home to such a large concentration of retired adults for a variety of reasons, including its warm weather and outstanding selection of senior-friendly attractions, but one of the most common reasons why so many retirees choose this particular city is its low cost of living. Cost is vitally important to seniors living on limited incomes. For this reason, and with so much available here in comparison to the cost of living, Charlotte's assisted living is hard to beat.
Popular Attractions for Seniors in Charlotte, NC
One of the things that makes Charlotte such an incredible city for retired adults is its abundance of senior-friendly attractions. From the high-octane excitement of the Charlotte Motor Speedway to the quiet serenity of the Daniel Stowe Botanical Gardens, there's something here to satisfy every preference.
Charlotte is a city that embraces the arts, culture, and history, and this is nowhere more evident than in its array of theatres and museums. Popular among the area's seniors are the Charlotte Ballet, the Charlotte Symphony, Opera Carolina, the Charlotte Museum of History, Carolinas Aviation Museum, and the Bechtler Museum of Modern Art.
There's also no shortage of tranquil places where you can do everything from taking a scenic stroll to watching wildlife to getting your thoughts in order. Some of the best places in Charlotte to do these things include:
Charlotte is also home to the state's most exciting and innovative culinary scenes. From the state's iconic BBQ pulled pork and other southern staples to its every growing selection of globally inspired restaurants, it's easy to see why Charlotte was named one of the seven most exciting up and coming big cities for food lovers by Food & Wine magazine.
Benefits of Assisted Living in Charlotte, NC
Charlotte's assisted living facilities offer personalized services that can be tailored to meet any resident's unique needs. While each facility offers its own selection of programs and services, most provide a standard set of services that allow every resident to enjoy certain freedoms and experiences that serve to greatly improve their quality of life, such as:
Living Spaces That Feel Like Home
Assisted living facilities in Charlotte, NC are available with apartments in both furnished and unfurnished models. For those who prefer unfurnished, they are usually free to decorate their new living spaces as they wish. This freedom allows one to transform their new apartmentinto a comfortable living space that feels more like home. Having this sense of comfort, being surrounded by the things they love most, can often play an important role in helping assisted living residents adapt to their new living environment.
Personalized Care
Every high-quality assisted living facility has capable staff on hand who are experts at providinga customized level of care that is designed to satisfy everyresident's unique healthcare needs and personal preferences. Personalized care can include anything from nursing care and medication administration tocomprehensive monitoring for mood and behavioralissues.
Hands-On Assistance with Activities of Daily Living (ADLs)
Not all assisted living residents have the same needs. Somemay only need a little assistance with certain tasks, while others may need extra help completingtheir Activities of Daily Living, or ADLs.ADLs include a range of tasks such as housekeeping, bathing, dressing, hygiene, laundry, and more. Any assisted living facility's staffis specifically trained to provide respectful, hands-on assistance that protects the resident's dignity.
Safety and Security
Safety and security are two of the primary reasons why families and their aging loved ones agree toassisted living services. Having advanced safety measures in place not only put the minds of family members at ease, but they also reduce the risk of something happening to their residents. When a senior reaches the point in their life where they require help with their ADLs or they are more prone to wander, there is nowhere safer for them to be than in a safe and secure assisted living facility.
Access to Quality Healthcare
Assisted living facilities offer their residents access to as needed healthcare services, both on-site and when necessary, at local hospitals and other types of healthcare facilities. In Charlotte, the largest provider of healthcare services is the Atrium Health healthcare system. It is comprised of several nationally recognized hospitals and care centers, including the Atrium Health Carolinas Medical Center, Atrium Health-Pineville, Atrium Health-Cabarrus, and Atrium Health Carolinas Rehabilitation, just to name a few.
Engaging Social Activities
Every assisted living community offers residents the opportunity to partake in social activities that are designed to help older adults stay active and engaged despite their limitations. From dance classes, book clubs, and pottery to gardening and daytime excursions, every assisted living facility has a broad list of activities for residents to choose from that can help reduce feelings of isolation and depression and improves one's overall quality of life.
Quality Nutrition and Dining Options
A proper diet and good nutrition are the foundation for good health. As a result, assisted living communities in Charlotteoffer their residents a wide range of dining options withflexible mealtimes and greater meal variety, with ingredients that are often sourced locally when available. Most facilities are also able to providecustomized diet-specific menus for those residents that have certain dietary restrictions.
Charlotte's Public Transportation Services
Having access to public transportation is important for seniors living in assisted living communities and Charlotte is continually expanding its public transit options. The city is served by the Charlotte Area Transit System (CATS), which includes buses, streetcars, and the LYNX Light Rail throughout the city's I-485 Loop. People aged 62 years and up, people with disabilities, and those with a Transit ID or Medicare card are eligible for half fares. Customers purchasing and riding with a Senior or Disabled ticket must be prepared to provide a valid Medicare card or Transit ID.
List of Senior Centers in Charlotte, NC
Charlotte's Senior Centers help keep seniors active both mentally and physically by providing them with a wide range of activities. The following is a list of senior and community centers in the Charlotte area:
Korean Senior Citizen Center of Charlotte
How to Find Assisted Living Facilities in Charlotte, NC
Whether you are looking for an assisted living facility for yourself or a loved one, there are a few options available to you that can help you find the right one for your needs in Charlotte, NC. One option is todo it the old-fashioned way by looking in the phone book or inquiring about assisted living from your friends and relatives.
Another is to contact a placement agency. Senior placement agencies help seniors find the right assisted living facility for them by working with the senior and their family to find the best possible fit for their needs. These types of services typically charge a referral fee to the Assisted Living community since they are bringing in revenue to that facility, so they don't usually charge seniors or their families. It is important to note that since agents can only get paid by assisted living facilities that they have contracts with, you may not be shown all the assisted living facilities that are available to you.
Another option is to do use an online directory of assisted living facilities in Charlotte, North Carolina from a site like Senioridy.com. Senioridy's search tools are comprehensive, so they can provide you with the best possible results. Just follow these steps:
Go to Find Senior Living > Assisted Living by clicking here
On the left Search Filters and in the Located Near field type in "Charlotte"
Adjust the slider to 60 mi
Click the arrow next to the field
Copy the very long URL, this is the link you will use
Once you do this simple search, you will be presented with many top-rated facilities to compare.
By accepting you will be accessing a service provided by a third-party external to https://senioridy.com/