Affordable Living in San Diego for Senior Citizens
In recent times, San Diego, CA, has become a growing hub for senior citizens searching for a laid-back and comfortable lifestyle. Commonly referred to as America's Finest City, San Diego boasts picturesque beauty, a friendly community of more than 1.5 million residents, and abundant recreational opportunities. It is rated as one of the best places to live in California.
However, relocating to a new city can be stressful for the elderly population. Plus, they usually have modest incomes, and finding affordable senior apartments in San Diego, California, can seem nearly impossible.
According to the National Council on Aging, financial insecurity is rising for the demographics above the age of 65, with more than 6 million living below the poverty level. As a result of the persisting inflation, senior citizens are also forced to spend more on daily living costs such as housing and healthcare. Subsequently, the income received from Social Security and Medicare - the bedrock of retirement security for many - is insufficient to help them make the most of their golden years.
Thankfully, resources are available for seniors with inadequate income to cover their housing costs. Although, finding a suitable option for the senior resident's needs may not be a straightforward task. But knowing where to start the search can make all the difference.
Below, you will find information on low income senior housing programs and how you can qualify for one in San Diego.
The topics we will cover include:
Pros & Cons of Living in San Diego, California
Introduction of San Diego Low Cost Senior Housing Programs
How is the rent determined for affordable senior housing in San Diego?
San Diego Public Housing Authority
San Diego Section 202 Senior Housing Community
Section 8 Housing Choice Voucher for San Diego Seniors
San Diego, California, Low Income Housing Tax Credit (LIHTC)
A Housing Guideline for Seniors in San Diego
How to Search For Affordable Housing for Seniors in San Diego
Pros & Cons of Living in San Diego, California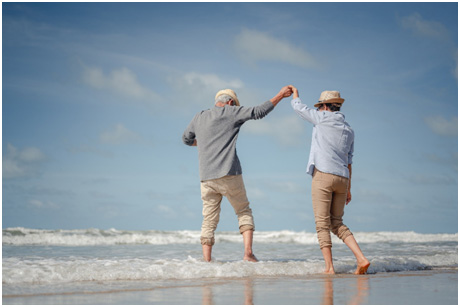 In general, the city of San Diego is not too big and overwhelming - with unlimited areas of exploration for every mind. But just like any other city in the world, it has its share of pros and cons for the residents. Here is a brief overview of them.
Pro: Blissful Weather
Different sources describe San Diego's weather as follows:
The closest thing to perfect in America.
The only city in the United States with an ideal climate.
The second-best year-round weather in the world.
Additionally, the area is a haven for nature lovers, with numerous beaches, parks, hiking trails, and bays. The Mediterranean-style climate makes it convenient for senior residents to enjoy outdoor activities without worrying about snow, rainfall, and other extreme weather conditions.
Pro: Diverse Community
In San Diego, the residents can find more than 100 close-knit and distinct neighborhoods. The diverse community is also very laid-back, and you will usually meet people who are relaxed, friendly and welcoming to every citizen.

Pro: Tons of Things to Do
In terms of leisure activities for the elderly, San Diego has many options that will never leave residents bored. Some of these include:
Con: Terrible Traffic
San Diego is a car-centric city, with most households owning at least one vehicle. California has one of the highest gas prices. This makes driving and commuting difficult, particularly for the elderly, who lack the ability to endure both traffic and the financial burden of maintaining a vehicle.
The good thing is that different public transport services in San Diego, such as buses, trolleys, and Surfliner, are available to provide residents with economical fares.
Con: High Cost of Living
The quality of life in San Diego comes with a costly lifestyle. Compared to other cities of the nation, the cost of living here is 47% higher, with housing expenses 120% higher than the national average. The U.S. Department of Housing and Urban Development (HUD) estimates San Diego's homelessness rate is 228 people per 100,000 residents.
Additionally, California taxes are among the highest in the nation, clocking at 13.3%.
And with the inflation rate increasing by more than 7% each year, meeting the expenditures is challenging for many senior citizens in San Diego.
To mitigate the issue, residents can choose to live in San Diego subsidized senior housing units. Here, the rents are determined according to the tenant's income. Moreover, affordable senior housing programs are equipped with different amenities to keep the residents comfortable.

Introduction of San Diego Low Cost Senior Housing Programs
Affordable housing for seniors in San Diego, California, is open to all residents earning an income below the median threshold. Different CA low income senior housing programs are available with varying guidelines. However, the eligibility criteria for affordable housing for senior citizens mainly depend on the applicant's income.
In the San Diego - Carlsbad, CA County, the income limits are:
Area Median Income: $106,900
Low income (80%) for one person: $72,900
Very low income (50%) for one person: $45,550
Extremely low income for one person: $27, 350
Note that the authorities will consider the income of the complete family when taking applications from senior citizens. If a senior applicant has a spouse or a working adult sharing the apartment, the gross income will be counted towards eligibility.
Besides income limits, each candidate applying for senior affordable housing in San Diego should have a clean background record. The authorities of each affordable senior living apartment will verify the applicant's criminal records, bank statements, rental history, and credit score to determine their eligibility. To increase your chances of qualifying for low income senior apartments in San Diego, ensure you provide all authentic documents with your application. Read our guide on Tips to Quality for Low Income Senior Apartments for the strategies to establish your eligibility.
How is the Rent Determined for Affordable Senior Housing in San Diego?
Each low-income housing program in San Diego, California, has an established guideline for determining the tenant's rent. But you can expect to pay around 30% of your income towards rent. The designated organization covers the remaining portion. Some housing authorities also include utility payments within the 'decided' rent. However, this depends on the affordable senior housing program, and you must check with them to confirm your housing budget.
Now, let's look at the details of affordable senior housing programs in San Diego, CA.
San Diego Public Housing Authority
The Housing Authority of the County of San Diego provides rental assistance to citizens and families with a limited income. The tenancy is open to all interested candidates with an income at or below 50% of San Diego's Area Median Income.
An online application is available on their website. Submit the required details about your household size, income, and background. Once the application is submitted, your name will be listed on the waiting list, and you will be called as per an apartment's availability.
San Diego Section 202 Senior Housing Community
Section 202 senior housing units in San Diego are offered by HUD. The apartments are designed exclusively for the senior population. Here, you can find many amenities that are suitable for their lifestyle. This may include:
Protected entryways
Elevators
Grab rails
Wheelchair ramps
Community rooms
Non-slip flooring
It's also not uncommon for some San Diego, CA, low income senior living apartments to have an on-site coordinator available 24/7. The staff member works as an aid for the senior residents and assists them in all their daily tasks. They also organize activities for the tenants and encourage them to participate actively.
You can visit the Senioridy property listings to find a suitable Section 202 senior affordable housing unit. Send a proposal directly to the community manager using the contact details listed on the webpage. The authorities will check the information in your application and provide you with an apartment if you meet their requirements.
Section 8 Housing Choice Voucher for San Diego Seniors
The Section 8 housing choice vouchers in San Diego provide modest families and individuals with safe and comfortable residential units. Fill out the form on their website to submit your application. Depending on the availability of vouchers in San Diego, CA, your application will be included on the waiting list for an indefinite period.
Once you receive the acceptance, you will be free to choose any unit in San Diego according to your household requirement. However, apartment owners should be willing to accept vouchers as substitutes. The housing department of San Diego County will also assess the apartment to verify if it is appropriate for your budget and needs.
San Diego, California, Low Income Housing Tax Credit (LIHTC)
The LIHTC program in San Diego is more widespread than other affordable housing programs. Compared to other initiatives, the funding for LIHTC is more abundant.
The apartments are open to all eligible residents of San Diego. However, a specific number of units are specifically senior-designated.
Another difference between LIHTC and other affordable housing programs is the rent calculation. While the rental assistance for other programs is solely income-based, the LIHTC establishes rent based on the income bracket specified for the apartment.
If you are interested in a San Diego LIHTC unit, please visit their property data search page for a complete listing.
A Housing Guideline for Seniors in San Diego
Below are a few valuable tips for those seeking low-income senior apartments in San Diego, California.
Make sure to provide all the correct information in your application.
Read the application criteria for each housing program before submitting your application.
Make sure to respond to all correspondence received by the housing authorities.
Pay rent on time.
Avoid disputes with the management and neighbors.
Senior citizens on the waiting lists for San Diego, CA, low income apartments should keep their information updated with the authorities.
Eviction is possible if you fail to abide by the rules established by the housing department.
Apply for emergency rental assistance in San Diego if you need immediate shelter.
How to Search ForAffordable Housing for Seniors in San Diego
There are several ways to search for a suitable affordable housing unit in San Diego. A couple of these include
A Google Search of Affordable senior city housing in San Diego.
Consulting a real estate agent.
However, these are time-consuming and may also require a fee or commission payment, which may not be practical for senior citizens on a low income.
Senioridy makes the procedure easy. You can use the Senioridy database to search for listing properties in San Diego. Comprehensive details of each property are listed on the pages. The best part is that the service is free and requires no sign-up. With Senioridy, we make your search for affordable senior housing easier. Good luck!
By accepting you will be accessing a service provided by a third-party external to https://senioridy.com/