Why Select Assisted Living in Greensboro, NC?
A lot of cities like to claim to provide their residents with big city amenities and a small town feel, but few do it better than Greensboro, NC.Greensboro is just big enough to have everything you need yet small enough for you to feel comfortable around everyone you meet. It is for this reason (as well as many others) why so many retirees, and those looking for assisted living facilities, are attracted to the area.
As part of the Piedmont Triad, which also includes Winston-Salem and High Point, Greensboro bears the nickname the "Gate City" because when you live here, it's just a short jaunt to and from several other major cities in North Carolina. So, whether you have to venture into High Point for a medical procedure or head to the Blue Ridge Mountains to enjoy the day outside with your family, you'll never be too far away from home.
But truth be told, the real reason why Greensboro is an excellent place to consider for your assisted living needs is that this part of the country offers quite a lot to older adults. The area's weather, tax laws, and general support services are among the most senior-friendly in the nation. So, if you're looking for assisted living solutions for either yourself or a loved one, there is no real reason why Greensboro shouldn't be one of the top cities on your list.
In this guide from Senioridy, you'll learn everything you need to know about assisted living in Greensboro, NC.
Contents
Why Select Assisted Living in Greensboro, NC?.
Assisted Living in Raleigh, NC: What You Need to Know..
Senior Population and Assisted Living Volume in Greensboro, NC.
Criteria for Admittance in Assisted Living in North Carolina.
Typical Costs of Assisted Living in Greensboro, NC.
Benefits of Assisted Living in Greensboro, NC.
Hands-On Assistance with ADLs.
Quality Nutrition and Dining Options.
Quality of Life in Greensboro, NC.
Senior Centers in the Greensboro Area.
Transportation Services in Greensboro, NC.
How to Find Assisted Living Facilities in Greensboro, NC.
Assisted Living in Raleigh, NC: What You Need to Know
Among being one of North Carolina's favorite places to retire to, Greensboro has some of the best assisted living facilities. If you're lookingfor more information aboutassisted living in Greensboro, NC, then Senioridy is here to help. Just click on the topics below to learn more.
Senior Population and Assisted Living Volume in Greensboro, NC
Criteria for Admittance in Assisted Living in North Carolina
Typical Costs of Assisted Living in Greensboro, NC
Benefits of Assisted Living in Greensboro, NC
Quality of Life in Greensboro, NC
Senior Centers in the Greensboro Area
Transportation Services in Greensboro, NC
Senior Population and Assisted Living Volume in Greensboro, NC
According to the United States Census, Greensboro's population in 2019 was estimated at 296,725 with 49,352 of those residents being seniors aged 65 and older. With approximately 29 assisted living facilities in the Greensboro area, the city has plenty of attractive options for those looking to take this next step in their wellness management.
Greensboro is home to so many older adults because it is particularly favorable to retirees.North Carolina not only has senior friendly tax benefits, but Greensboro itself has a rich selection ofworld-class attractions, pleasant year-round weather, and outstanding healthcare services.
In addition, the cost of living in Greensboro is less than the national average, and this is important for seniors because many are often forced to live on tighter budgets. With all the above factors, it should come as no surprise that there can sometimes be a waiting list to get into some of the best assisted living facilities in Greensboro.
Criteria for Admittance in Assisted Living in North Carolina
Assisted living facilitiesinNorth Carolina have admission requirements that new residents need to meet before they can be approved for residency. Along with being at least 65 years old, applicants need to require one or more of the following:
Minimal skilled nursing services
Rehabilitation services
Daily assistance with everyday tasks — eating, bathing, etc.
Medication management
Assisted living in North Carolina is not considered ideal for seniors who require:
Around the clock supervision
Extensive medical care
Memory care
Typical Costs of Assisted Living in Greensboro, NC
Another reason forGreensboro's popularity with seniors is thatit is an affordable place to call home. The average monthly cost for assisted livingis about $3,800 per month in Greensboro, and this is several hundred dollars lower than both the state and national average.
It is important to remember that the above cost is an average. Most assisted living communities offer a variety of amenities to their residents, and these can affect their total monthly costs. Amenities that can impact the cost of assisted living can include, but are not limited to:
Restaurant-style dining
Pet-friendly accommodations
Private and shared apartments with full kitchens
Housekeeping and linen service
Scheduled transportation
Social, cultural, and recreational activities
Emergency response system
On-call medical staff
Benefits of Assisted Living in Greensboro, NC
Assisted living facilities in Greensboroprovide their residents with several key benefits that can make choosing to live here an easier decision to make.These benefits include:
Financial Incentives
The state of North Carolina offers financial incentives that can make it easier for seniors to manage their money and afford assisted living. For example, the state does not tax Social Security income. This allows seniors to make the most out of their already limited incomes.North Carolina also offers a cost-saving voucher program that can help seniors in need to afford their assisted living services. To learn more about the State and County Special Assistance Program, click here.
Pleasant Climate
Greensboro's climate is especially friendly to seniors, many of whom suffer from arthritis and other conditions that can be worsened by cold, wet weather. Although Greensboro experiences four distinct seasons, the winters are substantially milder here than in the more northern cities, with an average seasonal temperature of 40.9°. Summers in Greensboro tend to be hot and humid, with an average seasonal temperature of 76.9°. Annually, Greensboro gets more than 200 days of sunshine.
Safety and Security
When a family member reaches the point that they need assistance completing certain tasks or are prone to wander, an assisted living facility is one of the safest places for them to be. These facilities are equipped with advanced safety and security measures that are designed to always keep their residents safe and accounted for.
Access to Quality Healthcare
The health and well-being of its residents is always the highest priority in every assisted living facility. As such, assisted living facilities offer their residents easy access to high quality healthcare both on-site and when necessary, at local hospitals.In the Greensboro/Winston-Salem area, there are several top-rated hospitals, including Moses H. Cone Memorial Hospital, Atrium Health Wake Forest Baptist Medical Center, Novant Health Forsyth Medical Center, and others.
Home-Like Settings
In many assisted living facilities, seniors have the freedom to decorate theirapartments to help create more comfortable and familiar living spaces. But most also offer both fully furnished models, so they can accommodate the needs and expectations of all residents. In assisted living, the more comfortable the resident is, the easier it will be for them to adjust to their new lifestyle.

Personalized Care
Assisted living facilities provide a continuum of care that is designed to satisfy everyresident's unique health needs and personal preferences. Personalized care can include anything from 24/7 nursing care and medication administration tocomprehensive monitoring for mood and behavioralissues.Assisted living staff are trained to provide every resident withthe high quality care they need to livea healthy and active life.
Hands-On Assistance with ADLs
In an assisted living facility,residents can have a wide range of support needs. For instance, whereas some may be able to live somewhat independently, others may need extra help with their ADLs like housekeeping, transportation, bathing, dressing, hygiene, and laundry. The best assisted living communities employhighly trained, compassionate staffwho provide professional and respectful, hands-on assistance that protects the resident's dignity regardless of how much, or little, support they require.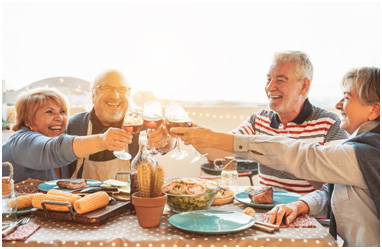 Social Engagement
When you live in assisted living, you can expect a calendar filled with social activities that are designed to help you or your loved one stay as active and engaged as possible despite any potentialphysical limitations they might have. Participating in these activities is highly encouraged because being socially engaged within the community helps prevent depression and feelings of isolation and greatly improves every resident's quality of life.
Quality Nutrition and Dining Options
As we age, what we eat matters and good health starts with eating a diet consisting of high-quality foods with all the vitamins and minerals older adults need. As a result, nutrition is a major priority at assisted living facilities. Mostof these centersprovide their residents with a wide range of dining options, including flexible mealtimes, greater meal variety, diet-specific meals, and more.
Quality of Life in Greensboro, NC
Greensboro offers an outstanding quality of life for its seniors thanks to its beautiful year-round weather, abundance of senior services, low cost of living, top-rated healthcare, and excellent selection of arts, entertainment, public parks and gardens, shopping, and restaurants.
Some of the must-see attractions in Greensboro include the ACC Hall of Champions, the Greensboro Science Center, the Greensboro History Museum, and the Greensboro Coliseum Complex. The city is also home to the International Civil Rights Center & Museum, which is where the historic peaceful sit-in at the former Woolworth store took place.
The city's Downtown is filled with art galleries, antique shops, and other senior-friendly stops, and there are several noteworthy and picturesque parks, such as Hamburger Square Park and the Downtown Greenway, where spending the day outdoors is always a worthwhile experience.
Greensboro also offers a variety of free resources for seniors that can help make their life in assisted living easier, more enjoyable, and more affordable. Below is a list of resources and support programs available to Greensboro's seniors:
Senior Centers in the Greensboro Area
Senior centers provide older adults with a safe and supportive place to meet, socialize, and enjoy activities with others their age. The Greensboro area is home to several multipurpose senior centers where local seniors can find a wealth of programs and services that can add value and satisfaction to their lives, such as educational seminars, exercise and wellness classes, art classes, and more.
Below is a list of senior centers in the Greensboro area:
Transportation Services in Greensboro, NC
Public transportation and medical transport services often serve as a valuable lifeline to seniors because these resources help them get to where they need to be. So, having easy access to affordable public transportation is often a must when you live in assisted living. In Greensboro, public transportation is provided by Greensboro Transit Agency (GTA).GTA operates 19 routes from 5:15 am to 11:30 pm Mondays through Fridays and 17 routes 6 am to 10 pm Saturdays and Sundays.Seniors aged 65 and over can ride GTA buses for a reduced fare.
If you have a disability that prevents you from riding one of GTA's standard buses, then transportation can be provided by Access GSO, the GTA's shared-ride transportation service. To use Access GSO, you will need to be approved and certified. To request an application for the Access service, please click below to download pdfs or call 336-373-2166. PART A and PART B must be received for consideration.
Paratransit services are also available to those who need it through the GTA's I-Ride service. To schedule a pick-up, call 336-663-1693 at least two hours prior to your desired pick-up time. I-Ride charges a flat rate per trip up to 6 miles in distance within the city limits. Beyond 6 miles, there is a per-mile surcharge. You will be notified of the total trip cost at the time of reservation.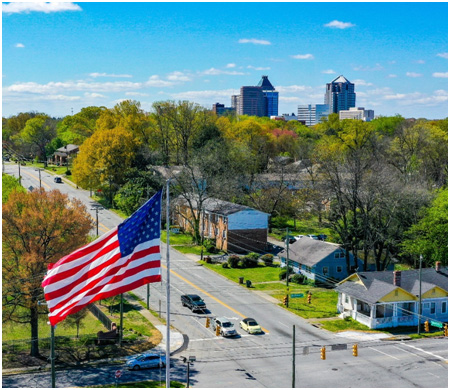 How to Find Assisted Living Facilities in Greensboro, NC
Whether you are looking for an assisted living facility for yourself or a loved one, there are a few options available to you that can help you find the right one for your needs in Greensboro and the surrounding area. One option is todo it the old-fashioned way by looking in the phone book or inquiring about assisted living from your friends and relatives.
Another is to contact a placement agency. Senior placement agencies help seniors find the right assisted living facility for them by working with the senior and their family to find the best possible fit for their needs. These types of services typically charge a referral fee to the Assisted Living community since they are bringing in revenue to that facility, so they don't usually charge seniors or their families. It is important to note that since agents can only get paid by assisted living facilities that they have contracts with, you may not be shown all the assisted living facilities in and around Greensborothat are available to you.
Another option is to do use an online directory of assisted living facilities in Greensboro from a site like Senioridy.com. Senioridy's search tools are comprehensive, so they can provide you with the best possible results. Just follow these steps:
Go to Find Senior Living > Assisted Living by clicking here
On the left Search Filters and in the Located Near field type in "Greensboro"
Once you do this simple search, you will be presented with many of the top-rated assisted living facilitieswithin a 60 mile radius of Greensboro to compare.
By accepting you will be accessing a service provided by a third-party external to https://senioridy.com/